Welcome to a new Family of Paramotors!
For your flying pleasure, we are introducing a new family of Paramotors, featuring various engines made in Italy.
The Impuls LT Paramotor
The Impuls LT Paramotor Frame is versatile and sturdy for both foot launched flight and PPG Trikes.
This new paramotor features a strong Aluminum Frame with a rigid cage, made with Carbon Fiber Struts and an Aluminum Cage Ring. The cage assembles and comes apart quickly for easy transport.
The suspension is similar to the Miniplane ABM with "Swan" arms to allow Weight-Shift control during flight. The harness is their own proprietary harness, comfortable and easy to become seated once airborne and vertical for landing. The support behind the knees is immediately noticeable and it is adjustable for comfort.
The Engines:
Coupled with this new frame are some of the most trusted motors used for Paramotoring:
Top 80 and Atom 80
These two light and powerful engines are amazing innovations in the world of Paramotors. The ability to use a smaller, lighter and more reliable engine has been made possible with the more efficient Power Gliders available today. Ultralight flight and the enjoyment of being airborne is now more of a reality than ever before!
Pilots with good launch and flying skills can now enjoy the lightness, agility and economy of these great small engines. An 80cc engine will have about 1/3 the fuel burn of the larger paramotor engines! This makes these motors an excellent choice when going cross-country (XC) in your aircraft.
Both of these engines feature a clutch and pull start, and are among the lightest paramotors available today at only 48 lbs!
Moster Plus 185
The Vittorazi Moster family of engines has become one of the most popular and trusted motors in the paramotor industry for heavier pilots needing a significant amount of power for their flying pursuits. The Impuls Moster Plus is available with the Manual Soft Starter System or Dual Start with both Manual and Electric.
The Moster Plus 185 incorporates a clutch. The addition of the clutch on these larger engines is a significant step towards safety and versatility in paramotor engine design. Learn about the Dark Evolution, read more about the Vittorazi Moster Plus 185 below, then get ready to experience this awesome new Paramotor!
This new family of paramotors will include a Carbon Fiber Propeller made by E-Props, optimized for the engine of your choice. This is a new generation of super light and powerful Scimitar shaped propellers, designed for maximum thrust with a minimum of weight. You will not believe how quickly this new propeller spins up to full power!!
Click on the photos for larger pictures of these new Paramotors. Some of the pictures we have now of the Moster Plus show a red and black color combo, but we have decided to move to all black. As soon as we have more units built, we will update our site with the new black units.
We have limited supply of this new paramotor. Orders may be placed now with our Dealers for these new machines.
Impuls Paramotor Prices:
Impuls Top 80 Paramotor: $5850 (48 lbs)
Impuls Atom 80 Paramotor: $5950 (48 lbs)
Impuls Moster 185 Plus Paramotor: $6750 (58 lbs)
Impuls Moster 185 Plus Dual Start Paramotor: $7450 (61 lbs)
---
Top 80 Engine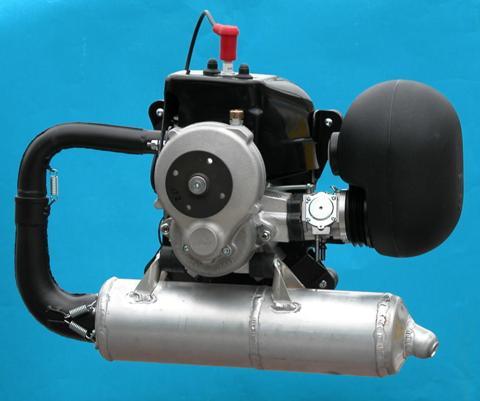 The Top 80 is an Italian single cylinder, 2-stroke aircraft engine designed and produced by Per Il Volo for Powered Paragliding. It was the first purpose-designed Paramotor engine!
The Top 80 was developed specifically for the Per Il Volo Miniplane, which was introduced in 1989.
The engine uses fan-cooling and a Walbro WG-8 diaphragm carburetor. Designed for light weight as the overall consideration, the engine weighs 10 kg (22.0 lb), plus the exhaust system weight of 1.5 kg (3.5 lb - NEW Aluminum Style). With the Walbro carburetor the Top 80 produces 11 kW (14.8 hp) at 9500 rpm.
Power is delivered to the two-bladed wooden propeller though a reverse-turning gear box to reduce output net torque felt by the pilot during acceleration and deceleration. The oil filled gearbox can be fitted with 22/70 gears giving a reduction ratio of 3:182, 21/71 gears giving 3.381, 20/72 gears giving 3.60, 19/73 gears giving 3.842 or 18/74 gears with a ratio of 4.111.
The engine also features a centrifugal clutch that allows idling without turning the propeller, a useful feature in its main application on a paramotor, where it improves ground safety.
From FootFlyer.com website:
This tiny, lightweight motor first became popular in Europe, especially with competition pilots. It's light weight and low fuel burn for the power produced made it perfect for competition pilots and everyone else. It can get over 100 lbs of thrust with a 48" prop. Miniplane, the builder, was first to put it on their paramotor frame but soon began selling the engine others.
Many instructors complained about maintenance issues because certain aspects were difficult to troubleshoot and repair. For example the dreaded power fall-off, where it goes to full power for a few minutes then tapers down. The pull start system is a bit challenging to work on and, depending on the problem, can require removing 15 or so rivets to get to it. The cooling fan is housed in that same unit so it must be deriveted (which admittedly is surprisingly simple) to replace.
This motor, like all small displacement machines, gets its power by running at high RPM - over 9000 - so it requires more frequent rebuild if run hard.
Throttle response is quite good on a properly running motor. I've heard pilots complain about this and indeed I've flown those with a slow response but that's because there's a problem. A normally running Top 80 is quite nimble.
This is probably the most impressive motor for the amount of power delivered per pound of weight. It enjoys US support (link above) and a loyal following although it is now sold on very few production units in the U.S.
cm3

80 monocylinder

Version
standard
Economy
alesaggio
mm

47,7

corsa
mm
44

empty weight

Kg

10 + exaust (1.5)

carburetor

mm

Walbro 24 diaphragm

Dell'Orto 17,5 basin

starter

manual

cooler

air fan

exhaust

resonance with integrated silencer

power
KW
11
10
revolution
n/m
9500
9300

dimensions

cm

h 29 x l 28 x L 24 Without exaust
Dimensions

transmission

centrifugal friction

reduction
gear box in oil bath
More information about the Top 80 Engine
---
Atom 80 Engine
The atom is, by definition, the smallest particle of the element, in which all the possible energy of the universe is condensed. That energy, for us, is the maximum expression of the enthusiasm of flying, the adrenaline of those who discover the beauty of the flight for the first time or who rediscover it in every new adventure in the sky.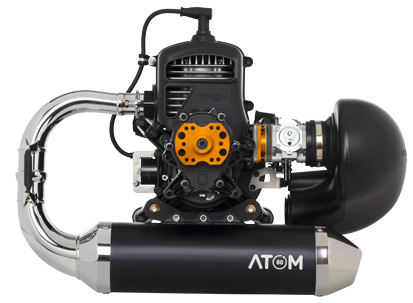 With the ATOM 80 the idea is to go back to the origins and offer an idea and a new flight experience with an innovative product, able to guarantee maximum enjoyment in total tranquility, thanks to an engine studied in every detail, reliable and sure. The ATOM is a real 'air scooter', a light and silent engine, very balanced, portable by everyone, just like a scooter. This is due to its simplicity of use, which arises from careful research that has allowed us to create an excellent engineering product of the highest quality, but usable by everyone. Even the design is catchy, with modern and innovative lines, able to distinguish it in an unmistakable way.
The ATOM 80 is the ideal engine for all those who approach the flight for the first time, for young people and lovers of free flight, but also for schools and girls, who wish to use a light and manageable product.
Quiet and comfortable, it has an "Ultrasoft" pull-start starter and contained power and thrust, as well as a guaranteed durability and is able to provide high performance. Very compact, with low fuel consumption, to guarantee maximum flight range, it is also a competitively priced engine. The quality of the product and the service continue to be at the highest levels, as in the Vittorazi style and philosophy, thanks to its cutting-edge technology and engineering.
The cooling of the heating unit is guaranteed by the fan positioned on the axis of the crankshaft and by the conveyor directed to the head-cylinder unit. The transmission is a helical gear in an oil bath, mounted on high-speed bearings and Viton oil seal. The clutch is centrifugal and adjustable.
The thrust is soft, linear and well managed up to 55 kg with a 130 cm propeller (52 kg with 122 cm propeller).
Cycle
2 strokes
Stroke
44 mms
Swept volume
78.2 cc
Bore
Ø 47.6 mms
Power
16 hp at 9.500 rpm
Cylinder
Single cylinder in aluminum Nicasil chromed
Piston
Diamond profile, 1 chromed piston ring
Intake
Silencer airbox – Walbro carburetor WG8 with choke system
Reed valve intake
Cooling
Forced air ventilation system with fan and conveyer
Starter
Pull starter
Clutch
Adjustable centrifugal
Reduction drive
Oil lubricated helicoidal gearings – Ratio 1/3.6 – 1/3.8
Ignition coil
Inductive IDI
Spark-plug
NGK BR9ES
Temperatures
EGT 550° – CHT 150°
Exhaust pipe
Hand-made with resonator and db killer chamber
Propeller rotation
Clockwise
Fuel
Unleaded gasoline – Full synthetic oil 1.5%
Consumption
2.0-2.50 liters/hour at 30kgs of static thrust,
prop.125cms at 7.500 RPM
Weight
10.5 kg
Thrust

55kgs prop. 130cms at 9.800RPM
52kgs prop. 125cms at 9.800RPM
Vittorazi Atom 80 User's Manual

---
The Dark Evolution - Moster Plus 185 Engine
The Moster 185 Plus is the smallest and most powerful engine in its category.

Vittorazi is happy to present its new Moster 185 line engine series, the 2016 Dark Evolution, commemorating its 20th year of activity and accomplishment in the field of paramotor production.

Dark Evolution - Its total black dress is what catches your attention at first: the black castings, transmission, head and exhaust pipe convey elegance and determination, and these black elements are the background to details in bright orange, the Vittorazi's brand representative color.

Reliability comes first - Testing the Moster 185 engine. Vittorazi Motors' attitude is to always test its products beyond their regular limits. Each couple of months, a standard engine is picked up from our regular production and it is tested beyond its standard limits for 5 hours between 6000 and 8700 RPM without being stopped at all. See the results!

However, the real innovation is the technological evolution used in this new series production for the Plus version:
New Clutch - machined from solid material, obtained through CNC machining of highly resistant alloy steel; very precise in geometry and weight.
Evolution of the 3S Starter - Soft Starter System: all the starter components are made through injection molding. The new geometrical shape optimizes the lightness and strength of the structure.
New Carbon Fiber Silencer - using this material has allowed the reduction of the engine weight by 70 grams. Also, it has conveyed an aggressive look and a definitely racingŁ sound to the engine.
New Painting of Castings - (carter and engine support): a paint specifically tested for engines that is resistant to high temperatures has been used, offering greater protection and safety against the oxides caused by atmospheric agents.
New Cooling Conveyor - made of carbon fiber and a cylinder head, specifically redesigned to facilitate its installation on the engine.
With the latest addition to the Moster range, Vittorazi introduces further innovation and offers the best value for weight, power, thrust, comfort, quietness and reliability available on the market.
The main added value of this new version is the clutch.
This integrated device significantly reduces vibrations at idle speed and it increases safety during pre-flight routine (propeller at rest). The vibrations are almost imperceptible at all engine speeds, while the weight distribution and the size of the engine minimize the torque effect.
The other notable improvement has been achieved with the introduction of the new exhaust system, extremely quiet and performing at the same time. The entire engine has been designed to obtain the minimum noise emission, which is attenuated by the air box, the transmission belt, a special "Db-killer" silencer, and the choice of the best propellers.
The "soft starter system" (3S) is one of the new advantages. It is a manual start system that allows the engine to start, both in flight and on the ground, with a single pull through the use of only one hand.
The Moster 185 Plus structure is basic and simple and it has a compact design (ideal and easy for control operations and maintenance). The total weight of the engine is 14.2 kg in the manual start version. The "plug & play" installation of the engine is quick and easy. The cooling of the thermal group is secured by propellers with dedicated profiles and exclusively designed for the Moster. The compatibility of specific propellers is recommended for the Plus version.
Vittorazi has also developed, for use in hot climates or other specific uses of the engine such as tandem or competition, a special optional cylinder head Cooling Shroud specifically designed for this engine. This increases the airflow across the cylinder head, significantly increasing the cooling and reducing the operating temperature.
The engine develops a maximum power of 25HP at 7,800 RPM. Vittorazi agrees to communicate the values of power, weight and static thrust in accordance with the actual values measured.
The Vittorazi Moster Plus185 Paramotor is recommended for a total weight of pilot + paramotor or trike ranging from 100 to 160 kg (220-352lbs). The thrust is smooth and linear up to 75 kg with a 130 cm propeller (70 kg with a 122cm propeller).
The fuel consumption of this engine is significantly reduced, about 4.0 liters/hour during a cruise flight.
Thanks to the specific Walbro/Vittorazi diaphragm carburetor the engine maintains a constant idle speed and is not affected by rough handling, bouncing during takeoff, turbulence in flight, or even spiral dives.
See the Vittorazi Moster Plus Engine Specifications here.
Vittorazi Moster Plus User's Manual
---