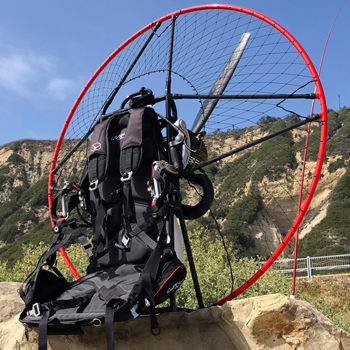 Impuls Paramotor
Welcome to a new Family of Paramotors!
For your flying pleasure, we are introducing a new family of Paramotors, featuring various engines made in Italy.

The Impuls Paramotor
The Impuls LT Paramotor Frame is versatile and sturdy for both foot launched flight and PPG Trikes.
This new paramotor features a strong Aluminum Frame with a rigid cage, made with Carbon Fiber Struts and an Aluminum Cage Ring. The cage assembles and comes apart quickly for easy transport.
The suspension is similar to the Miniplane ABM with "Swan" arms to allow Weight-Shift control during flight. The harness is their own proprietary harness, comfortable and easy to become seated once airborne and vertical for landing. The support behind the knees is immediately noticeable and it is adjustable for comfort.
The Impuls Air Harness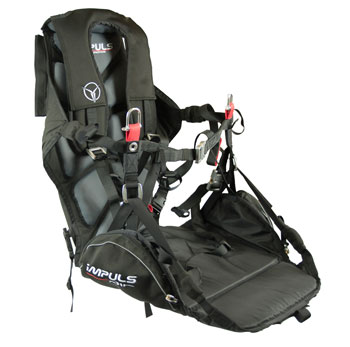 Impuls Paramotors makes one of the most comfortable and durable harnesses available for your Powered Paraglider! Slip into a long comfortable cross-country flight or carve some weight-shift turns with this great harness today and enjoy the ride!

Available for Low Hook-In point. Built for the best in-flight comfort. We used the highest quality components for its production: original Cordura, all metal elements come from AustriAlpin. The straps used by us have been specially designed and have strength of over 2,000 kg.
To ensure maximum safety, both harnesses have passed certification in the Swiss company Air Torquois, which has been certifying paragliding equipment for many years.
Weight: 3.5 kg. Max Pilot Weight: 100 kg.
Materials: Cordura, Neoprene, Nylon and Polyester.
---
The Engines:
Coupled with this new frame and harness are some of the most trusted motors used for Paramotoring:
---
Top 80 and Atom 80
These two light and powerful engines are amazing innovations in the world of Paramotors. The ability to use a smaller, lighter and more reliable engine has been made possible with the more efficient Power Gliders available today. Ultralight flight and the enjoyment of being airborne is now more of a reality than ever before!
Pilots with good launch and flying skills can now enjoy the lightness, agility and economy of these great small engines. An 80cc engine will have about 1/3 the fuel burn of the larger paramotor engines! This makes these motors an excellent choice when going cross-country (XC) in your aircraft.
Both of these engines feature a clutch and pull start, and are among the lightest paramotors available today at only 48 lbs!
---
Moster Plus 185
The Vittorazi Moster family of engines has become one of the most popular and trusted motors in the paramotor industry for heavier pilots needing a significant amount of power for their flying pursuits. The Impuls Moster Plus is available with the Manual Soft Starter System or Dual Start with both Manual and Electric.
The Moster Plus 185 incorporates a clutch. The addition of the clutch on these larger engines is a significant step towards safety and versatility in paramotor engine design. Learn about the Dark Evolution, read more about the Vittorazi Moster Plus 185 below, then get ready to experience this awesome new Paramotor!
This new family of paramotors will include a Carbon Fiber Propeller made by E-Props, optimized for the engine of your choice. This is a new generation of super light and powerful Scimitar shaped propellers, designed for maximum thrust with a minimum of weight. You will not believe how quickly this new propeller spins up to full power!!
Click on the photos for larger pictures of these new Paramotors. Some of the pictures we have now of the Moster Plus show a red and black color combo, but we have found that most pilots prefer all black. As soon as we have more units built, we will update our site with the new black units.
We have limited supply of this new paramotor. Orders may be placed now with us or one of our Dealers for these new machines.
---
All Impuls Paramotors include a Carbon Fiber E-Props Scimitar 125cm propeller!
Impuls Top 80 Paramotor: $5995 (48 lbs)
Impuls Atom 80 Paramotor: $6195 (48 lbs)
Impuls Moster 185 Plus Paramotor: $6750 (58 lbs)
Impuls Moster 185 Plus Dual Start Paramotor: $7450 (61 lbs)