Light as a Feather!
The Impuls Atom 80 is light and nimble, ready for your next paramotoring adventure.
The Impuls LT Paramotor
The Impuls LT Paramotor Frame is versatile and sturdy for both foot launched flight and PPG Trikes.
This new paramotor features a strong Aluminum Frame with a rigid cage, made with Carbon Fiber Struts and an Aluminum Cage Ring. The cage assembles and comes apart quickly for easy transport.
The suspension is similar to the Miniplane ABM with "Swan" arms to allow Weight-Shift control during flight. The harness is their own proprietary harness, comfortable and easy to become seated once airborne and vertical for landing. The support behind the knees is immediately noticeable and it is adjustable for comfort.
The Atom 80
This light and powerful engine is an amazing innovation in the world of Paramotors. The ability to use a smaller, lighter and more reliable engine has been made possible with the more efficient Power Gliders available today. Ultralight flight and the enjoyment of being airborne is now more of a reality than ever before!
Pilots with good launch and flying skills can now enjoy the lightness, agility and economy of these great small engines. An 80cc engine will have about 1/3 the fuel burn of the larger paramotor engines! This makes these motors an excellent choice when going cross-country (XC) in your aircraft.
The Atom 80 engine features a clutch and pull start, and is among the lightest paramotors available today at only 48 lbs!
We have limited supply of this new paramotor. Orders may be placed now with us or one of our Dealers for these new machines.
Click Here for more detailed pictures of the Impuls Atom 80 Paramotor!
Impuls Atom 80 Paramotor: $6195 (48 lbs)
Includes Carbon Fiber E-Props Scimitar 125cm propeller!
---
Atom 80 Engine
The atom is, by definition, the smallest particle of the element, in which all the possible energy of the universe is condensed. That energy, for us, is the maximum expression of the enthusiasm of flying, the adrenaline of those who discover the beauty of the flight for the first time or who rediscover it in every new adventure in the sky.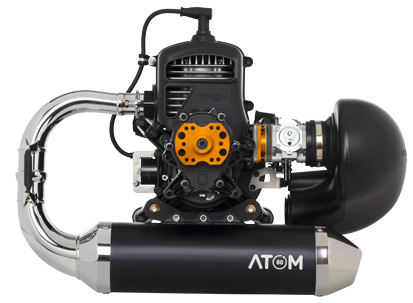 With the ATOM 80 the idea is to go back to the origins and offer an idea and a new flight experience with an innovative product, able to guarantee maximum enjoyment in total tranquility, thanks to an engine studied in every detail, reliable and sure. The ATOM is a real 'air scooter', a light and silent engine, very balanced, portable by everyone, just like a scooter. This is due to its simplicity of use, which arises from careful research that has allowed us to create an excellent engineering product of the highest quality, but usable by everyone. Even the design is catchy, with modern and innovative lines, able to distinguish it in an unmistakable way.
The ATOM 80 is the ideal engine for all those who approach the flight for the first time, for young people and lovers of free flight, but also for schools and girls, who wish to use a light and manageable product.
Quiet and comfortable, it has an "Ultrasoft" pull-start starter and contained power and thrust, as well as a guaranteed durability and is able to provide high performance. Very compact, with low fuel consumption, to guarantee maximum flight range, it is also a competitively priced engine. The quality of the product and the service continue to be at the highest levels, as in the Vittorazi style and philosophy, thanks to its cutting-edge technology and engineering.
The cooling of the heating unit is guaranteed by the fan positioned on the axis of the crankshaft and by the conveyor directed to the head-cylinder unit. The transmission is a helical gear in an oil bath, mounted on high-speed bearings and Viton oil seal. The clutch is centrifugal and adjustable.
The thrust is soft, linear and well managed up to 55 kg with a 130 cm propeller (52 kg with 122 cm propeller).
Vittorazi Atom 80 Specifications:
Cycle
2 strokes
Stroke
44 mms
Swept volume
78.2 cc
Bore
Ø 47.6 mms
Power
16 hp at 9.500 rpm
Cylinder
Single cylinder in aluminum Nicasil chromed
Piston
Diamond profile, 1 chromed piston ring
Intake
Silencer airbox – Walbro carburetor WG8 with choke system
Reed valve intake
Cooling
Forced air ventilation system with fan and conveyer
Starter
Pull starter
Clutch
Adjustable centrifugal
Reduction drive
Oil lubricated helicoidal gearings – Ratio 1/3.6 – 1/3.8
Ignition coil
Inductive IDI
Spark-plug
NGK BR9ES
Temperatures
EGT 550° – CHT 150°
Exhaust pipe
Hand-made with resonator and db killer chamber
Propeller rotation
Clockwise
Fuel
Unleaded gasoline – Full synthetic oil 1.5%
Consumption
2.0-2.50 liters/hour at 30kgs of static thrust,
prop.125cms at 7.500 RPM
Weight
10.5 kg
Thrust
55kgs prop. 130cms at 9.800RPM
52kgs prop. 125cms at 9.800RPM
Vittorazi Atom 80 User's Manual

Click Here for more detailed pictures of the Impuls Atom 80 Paramotor!
Atom 80 on the Miniplane ABM Paramotor Frame & Cage: