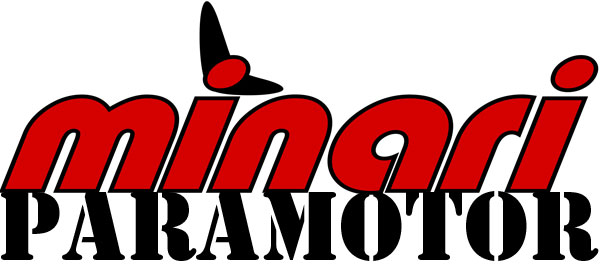 The new Minari Paramotor is strong, light and easy to transport due to the simple and brilliant cage design.
New options include the Minari engine with a Clutch and Electric Start!
The Minari Paramotor is ideal for use both with the TrikeBuggy and foot launched Powered Paragliding.
Foot launching pilots will find the Minari's weight-shift Side Arms and comfortable harness familiar and well balanced. When you're ready to trike, the harness can be easily removed for use with the TrikeBuggy.
The Minari engine is easy to start, idles nicely and has a very smooth range of power. It has easy access to the midrange thrust which is great for cruising. Wrap this engine up to full power and experience one of the most powerful paramotor motors available today!
From 23kg, it has an excellent power to weight ratio. The 180cc Minari Engine boasts a very impressive 75+kg of static thrust, which is enough to get anybody from the ground to flight with ease.
Minari Paramotor Frame & Cage
Minari Paramotors has designed a four-part aluminum cage that helps to ensure the highest possible safety. Its construction provides shock dissipation so that the impact energy is spread throughout the frame which improves security and protects the engine against damage. The Cage sections are easily disassembled and organized for transport.
The new Minari Paramotor Frame and Cage are made of Aluminum and powder-coated with a shiny finish. The Cage sections are available in six stunning colors: Yellow, Orange, Red, Green Blue and Black. The Frame is a gorgeous glossy black, and the resulting Frame/Cage combination has a remarkable weight of less than 11 lbs.
The Cage sections disattach easily to make this paramotor ready to transport. When assembled, the rigid Cage and Frame are light, yet strong - perfect for use with a trike as well!
Harness
The Minari Harness is comfortable and roomy, good for the heavier pilots that will be using this powerful motor. This standard harness features a High-Hangpoint J-Bar system that is typical of the high hangpoint system, a remarkably stable and comfortable seating system. There are zippered pockets on the sides to hold your Fuel Check Mirror, tools, and cell phone as well as any other items you want to bring along. There is also a zippered pouch under the seat to bring along your Stuff Sack in case of an unexpected "out landing".
We have also added and tested optional ABM Low-Hangpoint Arms from Miniplane on this frame with various harnesses, and the result is incredible! The ABM Arms handle the torque beautifully with their offset bends, while the harnesses we tested keep the motor remarkably snug against the back of the pilot, keeping the torque effects very managable. We tested the Miniplane Harness, as well as others that are offered below with the SupAir Evo (see picture to the right) being the most comfortable!
Minari Paramotor - Complete Unit, ready to fly!