Tried and True!
The Impuls Top 80 Paramotor is light and nimble, ready for your next paramotoring adventure. The reliable and proven Top 80 engine has been the mainstay for pilots weighing less than 200 lbs for the last 25 years with support and parts available from Miniplane-USA.
The Impuls LT Paramotor
The Impuls LT Paramotor Frame is sturdy and versatile enough for both foot launched flight and PPG Trikes.
This new paramotor features a strong Aluminum Frame with a rigid cage, made with Carbon Fiber Struts and an Aluminum Cage Ring. The cage assembles and comes apart quickly for easy transport.
The suspension is similar to the Miniplane ABM with "Swan" arms to allow Weight-Shift control during flight. The harness is their own proprietary harness, comfortable and easy to become seated once airborne and vertical for landing. The support behind the knees is immediately noticeable and it is adjustable for comfort.
The Top 80
This light and powerful engine is an amazing innovation in the world of Paramotors. The ability to use a smaller, lighter and more reliable engine has been made possible with the more efficient Power Gliders available today. Ultralight flight and the enjoyment of being airborne is now more of a reality than ever before!
Pilots with good launch and flying skills can now enjoy the lightness, agility and economy of these great small engines. An 80cc engine will have about 1/3 the fuel burn of the larger paramotor engines! This makes these motors an excellent choice when going cross-country (XC) in your aircraft.
The Top 80 engine features a clutch and pull start, and is among the lightest paramotors available today at only 48 lbs!
We have limited supply of this new paramotor. Orders may be placed now with us or one of our Dealers for these new machines.
Click Here for more detailed pictures of the Impuls Top 80 Paramotor!
Impuls Top 80 Paramotor: $5995 (48 lbs)
Includes Carbon Fiber E-Props Scimitar 125cm propeller!
---
Top 80 Engine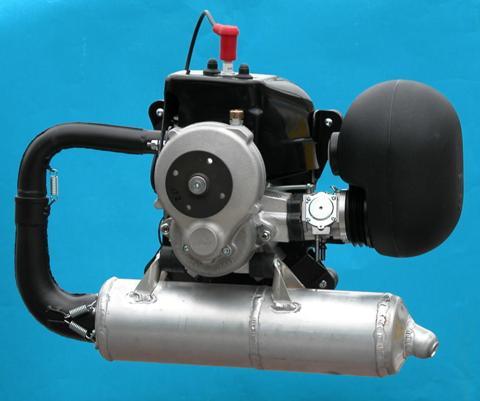 The Top 80 is an Italian single cylinder, 2-stroke aircraft engine designed and produced by Per Il Volo for Powered Paragliding. It was the first purpose-designed Paramotor engine!
The Top 80 was developed specifically for the Per Il Volo Miniplane, which was introduced in 1989.
The engine uses fan-cooling and a Walbro WG-8 diaphragm carburetor. Designed for light weight as the overall consideration, the engine weighs 10 kg (22.0 lb), plus the exhaust system weight of 1.5 kg (3.5 lb - NEW Aluminum Style). With the Walbro carburetor the Top 80 produces 11 kW (14.8 hp) at 9500 rpm.
Power is delivered to the two-bladed wooden propeller though a reverse-turning gear box to reduce output net torque felt by the pilot during acceleration and deceleration. The oil filled gearbox can be fitted with 22/70 gears giving a reduction ratio of 3:182, 21/71 gears giving 3.381, 20/72 gears giving 3.60, 19/73 gears giving 3.842 or 18/74 gears with a ratio of 4.111.
The engine also features a centrifugal clutch that allows idling without turning the propeller, a useful feature in its main application on a paramotor, where it improves ground safety.
From FootFlyer.com website:
This tiny, lightweight motor first became popular in Europe, especially with competition pilots. It's light weight and low fuel burn for the power produced made it perfect for competition pilots and everyone else. It can get over 100 lbs of thrust with a 48" prop. Miniplane, the builder, was first to put it on their paramotor frame but soon began selling the engine others.
Throttle response is quite good on a properly running motor. I've heard pilots complain about this and indeed I've flown those with a slow response but that's because there's a problem. A normally running Top 80 is quite nimble.
This is probably the most impressive motor for the amount of power delivered per pound of weight. It enjoys US support (link above) and a loyal following although it is now sold on very few production units in the U.S.
cm3

80 monocylinder

Version
standard
Economy
alesaggio
mm

47,7

corsa
mm
44

empty weight

Kg

10 + exaust (1.5)

carburetor

mm

Walbro 24 diaphragm

Dell'Orto 17,5 basin

starter

manual

cooler

air fan

exhaust

resonance with integrated silencer

power
KW
11
10
revolution
n/m
9500
9300

dimensions

cm

h 29 x l 28 x L 24 Without exaust
Dimensions

transmission

centrifugal friction

reduction
gear box in oil bath
More information about the Top 80 Engine
Click Here for more detailed pictures of the Impuls Top 80 Paramotor!