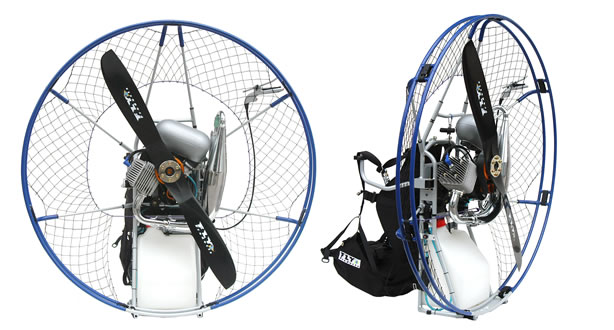 Kompress is Fly Products latest design built for easy and compact transportation using a new fully detachable frame.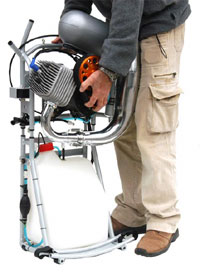 The new 2005 FLY Products Kompress is the ideal paramotor for the pilot looking for a light but strong, powerful, reliable and portable unit.
The Black Devil M25 engine has proven to have an excellent weight-to-thrust ratio matched with low noise level and efficient fuel consumption. The Corsair Black Devil motor has become one of the most popular engines in the paramotoring market.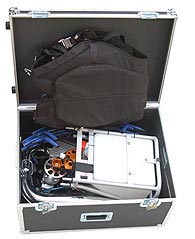 The Kompress is very easy to transport due to its fully dismountable cage. As an option, it is offered with a hard suitcase with wheels and retractable handle for easy transportation. This hard suitcase is airline approved, and is available for $450.
The Kompress is available in two versions: Kompress Light (manual starter = 55 lbs. dry weight) and Kompress Deluxe (electric starter, low fuel warning light at the throttle and gas tank low fuel sensor = 61 lbs. dry weight) for additional $200.
Kompress package includes: Corsair Black Devil engine of 25 HP 172.5 cc., manual starter (electric starter - add $200),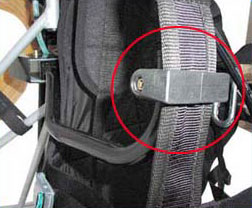 Walbro carburetor, Righetti intake carburetor silencer, chromed tuned pipe exhaust plus maze silencer, deluxe throttle with low fuel warning light, start/stop switch and adjustable cruise control, deluxe harness with high density foam back protector, quick release buckles and press gate carabiners, distance bars with anti-torque system and weight shift control, aeronautical aluminum fully dismountable frame, double ring cage, stainless steel hardware, 4.5 gallon gas tank for 3.5 hours of flying time, 2 blade wooden propeller, maintenance tool kit, owner's manual and 6 month engine manufacturer defect warranty.
The distance bars are designed to allow the sliding of the front harness webbing so that the pilot finds the proper angle with the paraglider. With this system the force of the propeller torque onto the riser is avoided as it allows the pilot to use weight-shift to assist in turning the paraglider.
Download Manual

Kompress Video

Technical Data

Model:

Kompress Light

Kompress Deluxe

Engine type:

Cors-Air Black Devil (M25Y)

Cors-Air Black Devil (M25Y)

Cylinder #:

Cubic Centimeters (CC):

Max. Horse Power (HP):

Dry weight (lbs.):

Reduction drive ratio:

Fuel tank (U.S. Gallons):

Flying time (hrs.):

Max. pilot weight (lbs.):

Propeller blades #:

2 blade wooden


2 blade wooden


Propeller diameter (inches):

Static thrust (lbs.):

Electric starter:

no
(easy-over-the-shoulder manual starter)