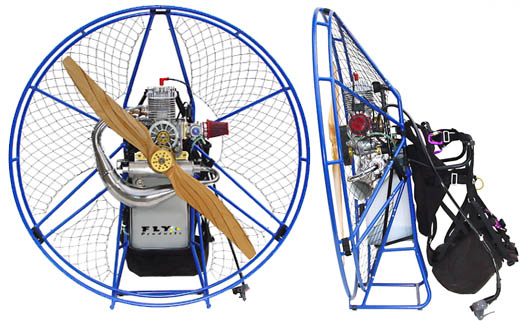 The popular FLY Products Power Gold paramotor has been in the market for the last 3 years thanks to its power (consecutive 1st places at different thrust contests) and reliability (the right combination of a Simonini 28HP engine and Bing 84 self-adjustable carburetor). The weak point was noise level. FLY Products has worked extensively to reduce noise level without sacrificing power.
FLY Products achieved a significant reduction in noise level on the 2004 Power Gold model by installing a different chromed tune pipe exhaust with a maze (gases travel in zig-zag before they exit) silencer and a Righetti carburetor intake silencer.
These improvements are available as an upgrade kit for all previous versions of the Power Gold (2001-2003 models).
Additionally, there is now 4 different options on propellers available for the Power Gold 115 and 130: 2 blade aftermarket wooden prop , 2 blade original Italian wooden prop , 2 blade carbon fiber prop , 2 blade dismountable (puzzle type) composite fiber prop and 3 blade dismountable (puzzle type) composite fiber prop .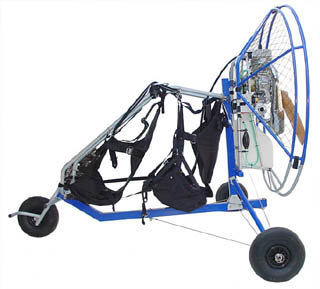 The new Power Gold comes with electric starter as standard. There is also an over-the-shoulder manual starter option available in case you want to have both starter systems.
The FLY Products Power Gold series is the most popular and best seller line of Powered Paragliders in the U.S. market today. This model is winner of the 2002 Sun & Fun award as best Powered Paraglider at the show, winner of the 2002, 2003 and 2004 Parastars PPG Convention thrust contest and winner of the 2003 Albuquerque American Flyer fly-in thrust contest.
There is no Powered Paraglider unit today that compares in quality of construction, performance, reliability and thrust to the FLY Products Power Gold series.
Price includes: Simonini G24 engine of 28 HP 200cc, electric starter (optional easy-over-the-shoulder manual starter upgrade available), Bing 84 self-adjustable carburetor (no carburetor tuning required), chromed tune pipe exhaust plus maze silencer, deluxe throttle with low fuel warning light, start / stop switch and adjustable cruise control, deluxe harness with high density foam back protector, quick release buckles and press gate carabiners, distance bars with anti-torque system and weight shift control, aeronautical aluminum frame and 3 piece dismountable double ring cage, stainless steel hardware, 4.5 gallon gas tank for 3.5 hours of flying time, 2 blade wooden propeller (carbon fiber 2 blade propeller, composite 2 blade puzzle type propeller or composite 3 blade puzzle type propeller upgrades available), maintenance tool kit, owner's manual and 6 month engine manufacturer defect warranty.
Download Manual

Technical Data

Model:

Power Gold 95

Power Gold 115

Power Gold 130

Engine type:

Simonini Mini 2 Plus (G24)

Simonini Mini 2 Plus (G24)

Simonini Mini 2 Plus (G24)

Cylinder #:

Cubic Centimeters (CC):

Max. Horse Power (HP):

Dry weight (lbs.):

Reduction drive ratio:

Fuel tank (U.S. Gallons):

Flying time (hrs.):

Max. pilot weight (lbs.):

Propeller blades #:

Propeller diameter (inches):

Static thrust (lbs.):

Electric starter: