Unique is the new light trike model, whose design allows for extending it. Thanks to that from the single trike we can construct the tandem by connecting another front with safety cage. Tandem can be also easily packed into the car. It is a very nice solution for the Tandem Rated Instructors wanting to share the magic of flight with their PPG Student Pilots.
The Airone UNIQUE Tandem PPG Trike is constructed with the safety cage and anti-turnover arch. The cage is constructed in such a way to be comfortable and to be able to move easily. The cage construction protects both passenger and pilot in case the trike is toppled during takeoff or landing.
The passenger harness is specially designed for this trike. It contains certified strap system that independently duplicates the normal hook-in (passenger, pilot, wing). The harness is attached to the cage in such a way that in case of trike falls over upside down it does not allow passenger to fall out from cage. The passenger position in the cage prevents them from touching their feet to the ground. This is important especially during landing, and the passenger is comfortable with their feet on special footrests.
Weight of the trike ready to fly: 28kg. Does not include Paramotor.
View more pictures of the Airone UNIQUE Tandem PPG Trike.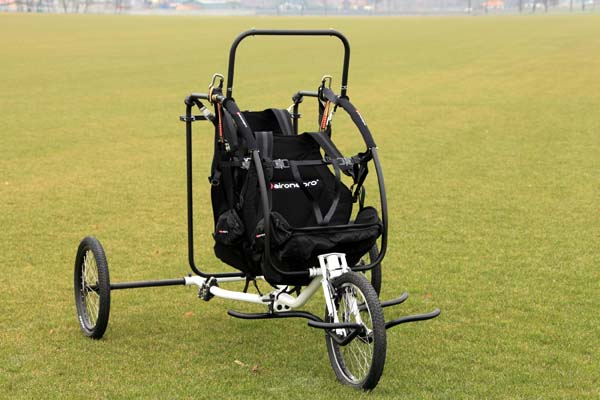 Airone Tandem Trike Pictures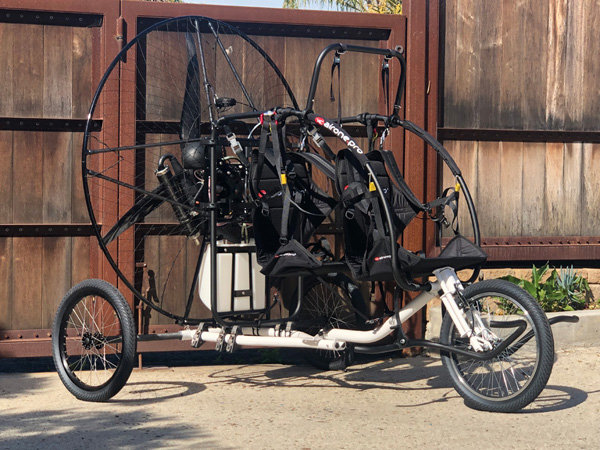 Airone Tandem Trike Picture with Optional Impuls Moster Paramotor