Paramotoring and
Powered Paragliding
Airone UNIQUE - $2600
Airone
TANDEM
- $4250

The Airone Trikes are very unique PPG Trikes that are designed with attention to detail and are universal to fit most paramotors on the market.
The Airone PPG Trikes are very lightweight yet feature a strong construction that it fold down into some of the smallest units on the market in just a few seconds. The rear axles pull out and the rear wheels also remove from the axles.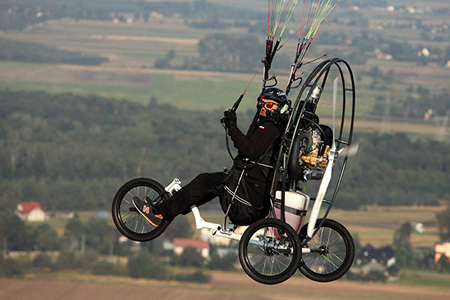 The wheels are purpose made, light weight Spoked wheels that look like BMX wheels but are very strong to take the stresses and strains of the weight of the Pilot, Trike and Paramotor during bumpy take-offs and landings.
Your strength, health and fitness can deteriorate as we get older.
When you have been flying for many years with a foot-launched Paramotor unit on your back, your spine and joints are exposed to big loads and high possibilities of compressions and damage despite years of experience. Mounting your Paramotor on a trike relieves the stresses and strains from the weight of your paramotor on your back. You can enjoy effortless flying without worrying about your body not keeping up with your age or fitness.

The idea of creating something that would give a relief to one's body isn't a new concept but:
There was no trike on the market which would let you feel like you are flying a normal PPG.
This PPG Trike allows you to use the Speed Bar-system in its full range.
This PPG Trike allows you to take pictures and movies vertically downwards and around you.
This PPG Trike allows you to attach your OWN Paramotor (with harness support systems) without any additional, custom-made suspensions struts or adaptations.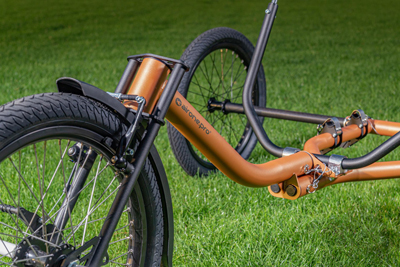 The idea of making a trike that would be:
Easy for transportation even with the use of a small car
Light on land and controllable when in the sky.
Durable construction.
Fast setup and packing away.
Above all - Practical and allowing for the feeling and fun of flying just like a normal footlaunched Paramotor PPG.

Airone UNIQUE Model
The Airone UNIQUE PPG Trike is a classic full frame PPG Trike featuring a quick disconnect at the neck for folding the trike down quickly and easily.

The UNIQUE has wide wheels, making launching from soft surfaces. This PPG Trike has great strength and stability, yet only weighs in at 28kg.

Now available in White, Black and a new Copper Color!



Airone UNIQUE
$2039

See the Airone PPG Trike coupled with the Minari Paramotor
HERE
!
---
NEW!!!
Airone Unique Tandem PPG Trike
Now, There's Room for TWO!!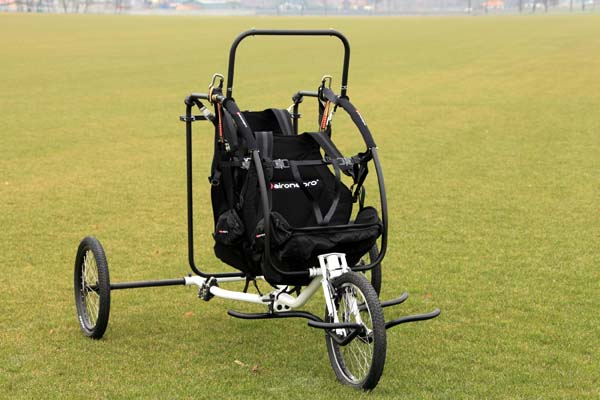 Unique is the new light trike model, whose design allows for extending it. Thanks to that from the single trike we can construct the tandem by connecting another front with safety cage. Tandem can be also easily packed into the car. It is a very nice solution for the Tandem Rated Instructors wanting to share the magic of flight with their PPG Student Pilots.
The Airone UNIQUE Tandem PPG Trike is constructed with the safety cage and anti-turnover arch. The cage is constructed in such a way to be comfortable and to be able to move easily. The cage construction protects both passenger and pilot in case the trike is toppled during takeoff or landing.
The passenger harness is specially designed for this trike. It contains certified strap system that independently duplicates the normal hook-in (passenger, pilot, wing). The harness is attached to the cage in such a way that in case of trike falls over upside down it does not allow passenger to fall out from cage. The passenger position in the cage prevents them from touching their feet to the ground. This is important especially during landing, and the passenger is comfortable with their feet on special footrests.
Weight of the trike ready to fly: 28kg. Does not include Paramotor.
Airone UNIQUE Tandem PPG Trike
$4250
All the information and images published in this website are property of TrikeBuggy, Inc. unless stated otherwise.
Reproduction of any part of these contents (info, graphics & pictures) by other website or media is strictly forbidden,
unless specially authorized by TrikeBuggy, Inc
© TrikeBuggy, Inc 2002– 2019
Please respect the rights and intellectual property of this Web site.