| | | |
| --- | --- | --- |
| | & | |
This Combination of the Airone PPG Trike and Minari Paramotor is a great way to roll into flight! Both are light and easy to transport due to the simple and brilliant trkie and cage design.
The Airone PPG Trikes are very lightweight yet feature a strong construction that it fold down into some of the smallest units on the market in just a few seconds. The rear axles pull out and the rear wheels also remove from the axles and then the chassis of the Airone SOLID Trike folds in half making it very small and compact for transportation.
The SOLID a very unique feature in that you can drop the front wheel and forward chassis strut which has a quick release designed into the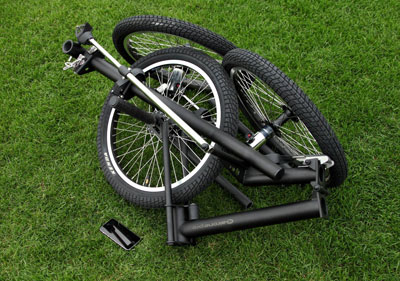 construction so that you can release it in-flight so the front wheel hangs below the trike and this enables you to still use the paraglider SPEED BAR in-flight. With a flick of your foot the front wheel comes back up and automatically locks in position for landing or if you want to just put your feet up onto the steering foot pegs for in-flight leg comfort.
The wheels are purpose made, light weight Spoked wheels that look like BMX wheels but are very strong to take the stresses and strains of the weight of the Pilot , Trike and Paramotor during bumpy take-offs and landings. See more information on the NEW Airone PPG Trikes HERE.
The Minari engine is easy to start, idles nicely and has a very smooth range of power. It has easy access to the midrange thrust which is great for cruising. Wrap this engine up to full power and experience one of the most powerful paramotor motors avilable today!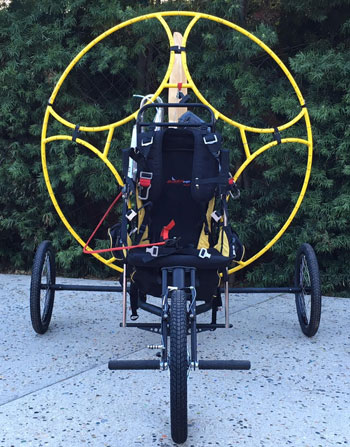 Minari Paramotors has designed a four-part aluminum cage that helps to ensure the highest possible safety. Its construction provides shock dissipation so that the impact energy is spread throughout the frame which improves security and protects the engine against damage. The Cage sections are easily disassembled and organized in the included Cage Section Transport Bag.
From 23kg, it has an excellent power to weight ratio. The 180cc Minari Engine boasts a very impressive 75+kg of static thrust, which is enough to get anybody off the ground with little effort.
Minari paramotors come in a choice of five stunning colors (Green, Blue, Yellow, Red and Orange) with a matching color harness fitted to the five piece light weight sturdy aluminum frame.
Airone PPG Trike & Minari Paramotor - Complete Unit, ready to fly!
See more pictures of the Minari Paramotor HERE!

Minari makes some of the most reliable and powerful Paramotor engines available today.
Minari Paramotor engines are 2 stroke and 180cc, made to exacting standards and manufactured on CNC machines using modern technology and finished with special treatment. The cylinders are aluminium alloy Galsi 9 hardened, with the inside having a Nichel-Silicon plating and completely honed with diamond tools and plateau finishing. The pistons have diamond profiles and are completed with 2 rings chromed. The crankshafts are made of forged steel, completely finished. The exhaust system is well sectioned and supported.
The power of the new Minari engine on this frame is remarkable. The unit's dry weight is 52.5 lbs and it has a 12 liter tank for plenty of range. Now, pilots over 210 lbs, pilots at high altitudes or Tandem Instructors have a great Paramotor that will suit their needs!
This motor starts easily, and idles nicely right away, ready to give it's power! The Minari will require about 10 hours of "break-in" at 2.5% oil mix, when it will run a bit rich and blubber a bit. After 10 hours, the mixture is leaned out to 2% (50:1 synthetic 2-stroke oil) and the motor smooths out. It is important to understand this and break this engine inproperly. This way, the motor has the best chances of giving a long life of service. During the break-in, vary the throttle and do not use full power for more than a few seconds.

TECHNICAL DETAILS: 180cc
| | |
| --- | --- |
| ENGINE: | Single Cylinder 2T |
| MOTOR CARTER: | Magnesium |
| CYLINDER: | Alluminium, 6 transfer with nickel silicon plated |
| PISTON: | 2 rings thickness 1,2mm steel chromed |
| COOLING: | By air/natural |
| DIAMETRE and STROKE: | 66x53 |
| CUBIC CAPACITY: | 181.23cc |
| COMPRESSION RATIO: | 11:1 |
| INTAKE: | Reed Valve inside crankcase to 4 petal |
| CARBURETTOR: | Walbro WB 37 C |
| MAX POWER: | 7500 rpm (26Cv) |
| IGNITION: | Electronic to variable advance |
| STARTING: | Manual |
| BELT DRIVE: | Belt POLIV - 14 rim of pulley |
| REDUCTION: | Pulley ratio 1/2.6 |
| ENGINE SUPPORT: | n°4 Anti-vibration |
| MOTOR FUEL: | Premium gasoline + semi-syntetic oil 2,5% |
| COMPLETE ENGINE WEIGHT WITH MUFFLER: | 14.05 Kg (Manual Starter) |
| COUNTER CLOCKWISE ROTATION: | The front of the drive |
---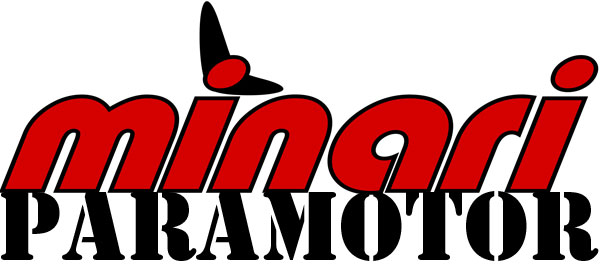 Combo: Airone SOLID/Minari Paramotor 180cc
$7450




Combo: Airone UNIQUE/Minari Paramotor 180cc
$7850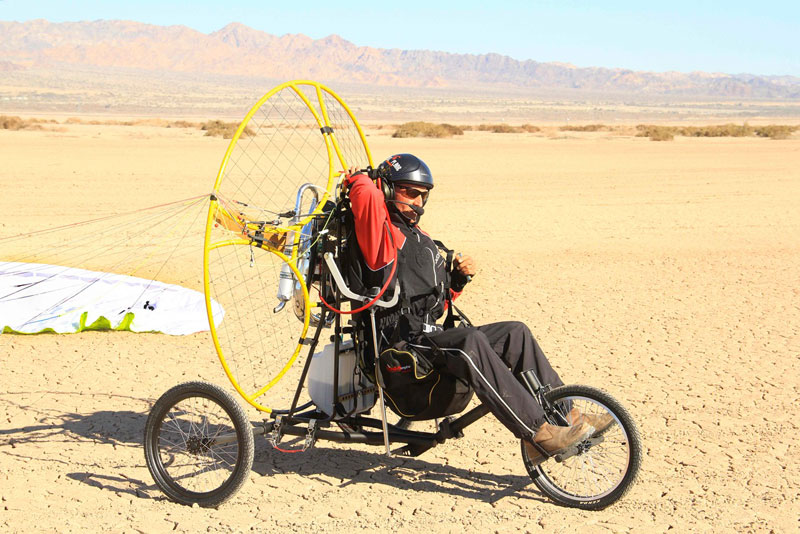 More pictures of this great combo flying at the Salton Sea HERE!
Airone PPG Trike Tests, Salton Sea, 12-28-15 from Chad Bastian on Vimeo.