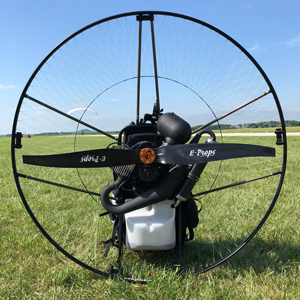 Welcome to a new Family of Paramotors!
For your flying pleasure, we are introducing a new family of Paramotors, featuring engines made by Vittorazi in Italy.
The Evo8 Paramotor
The Evo8 Paramotor Frame is versatile and sturdy for both foot launched flight and PPG Trikes.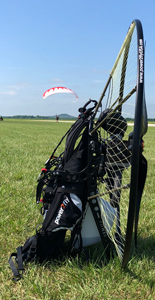 This new paramotor features a strong Aluminum Frame with a rigid cage, made with Carbon Fiber Struts and an Aluminum Cage Ring. The cage clips together quickly for easy transport.
The suspension is similar to the Miniplane ABM with "Swan" arms to allow Weight-Shift control during flight. The harness is the SuperLight by APCO, one of the lightest and most comfortable harnesses available.
The Vittorazi Moster family of engines has become one of the most popular and trusted motors in the paramotor industry for heavier pilots needing a significant amount of power for their flying pursuits. This massive power requires a stronger and more rigid frame and cage for this new breed of engine.
This paramotor will include a Carbon Fiber Propeller made by E-Props, optimized for the Moster 185 engine. This is a new generation of super light and powerful Scimitar shaped propellers, designed for maximum thrust with a minimum of weight. You will not believe how quickly this new propeller spins up to full power!!
The Moster Plus 185 incorporates a clutch. The addition of the clutch is a significant step towards safety and versatility in paramotor engine design. Learn about the Dark Evolution, read more about the Vittorazi Moster Plus 185 below, then get ready to experience this awesome new Paramotor!
Click on the photos for larger pictures of this new Paramotor.
The Evo8 Paramotor weighs 58 lbs.