Introducing - Onewheel Pint

| | |
| --- | --- |
| Onewheel Pint | Onewheel + XR |
Onewheel Pint
Shipments arriving regularly!
$1050
Onewheel Pint Fender Kit
Say goodbye to the days of pebbles in your shoes and stay above the fray with the Onewheel Pint Fender. The Onewheel Pint Fender allows you to embrace the elements and attack the messiest lines head on. The Onewheel Pint Fender easily screws into place using the included fasteners and allen-wrench allowing riders to install and remove depending on conditions. This pant protector, bat-mobile inspired fender is the only way to outfit your Onewheel for any conditions.
$75.00 (includes hardware)
Onewheel Pint & Fender Essentials Bundle
Bundle the Pint up with the essential Fender protection and save some dough!
$1095.00
SAVE $30!!
Send us a note after ordering for your preference of colors, please. info@americanparagliding.com
Please note: Shipping may be delayed until our next order arrives.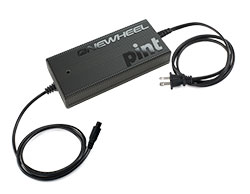 Onewheel Pint Ultracharger
Patience may be a virtue, but so is Onewheeling.
The Pint Ultracharger can charge your board in under an hour - about half the time of the standard Home Charger so you can have double the fun.
Charge time: approx. 50 minutes
Note: Chargers are multi-voltage and will work in any country. An adapter may be needed.
$110.00

The Onewheel ride experience distilled into a smaller package for your every-day journeys and adventures, at a price that makes perfect sense.
"This little ripper hits the sweet spot between price, performance, and practicality"
Smaller - At just 27 inches long, Pint fits in your life. Take it on the bus, set it next to you at the coffee shop or stash it under your desk.
Lit - Pint features Lightbar integrated into the front footpad for sense pad indication, battery monitoring and in-ride alerts. Plus it looks sick :)
Quick - Stick the landing. Pint features Simplestop dismount technology, enabling new riders to learn to ride quickly and feel confident.
Features - There is more to Pint than one big wheel in the center. It is highly integrated piece of high tech machinery with more to it than first meets the eye.
Colors - Available in either Sand or Slate colors as shown below.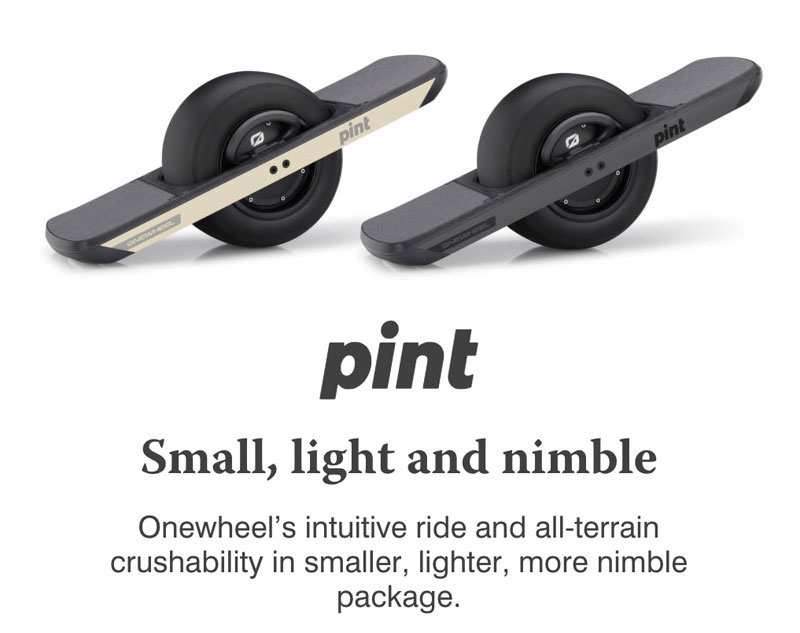 Onewheel Pint Specifications:
Weight: 23 lbs.
Length: 27"
Width: 10.5"
Height: 8.75"
Range: 6-8 miles
Motor: 750w
Onewheel Shipping:
US (lower 48) Shipping is FREE
US (AK + HI) Shipping is $60
Onewheel Pint includes:
Onewheel Pint
Charger
Manual
App
Website:
© TrikeBuggy 2006 – 2018
TrikeBuggy, Inc.
315 Meigs Rd #A374
Santa Barbara, CA 93109
805-403-1859